"O.k. Yes. I had an affair with her".
My husband couldn't look into my eyes when he finally admitted his 6-month affair with his co-worker.
I went completely silent for about 10 long seconds.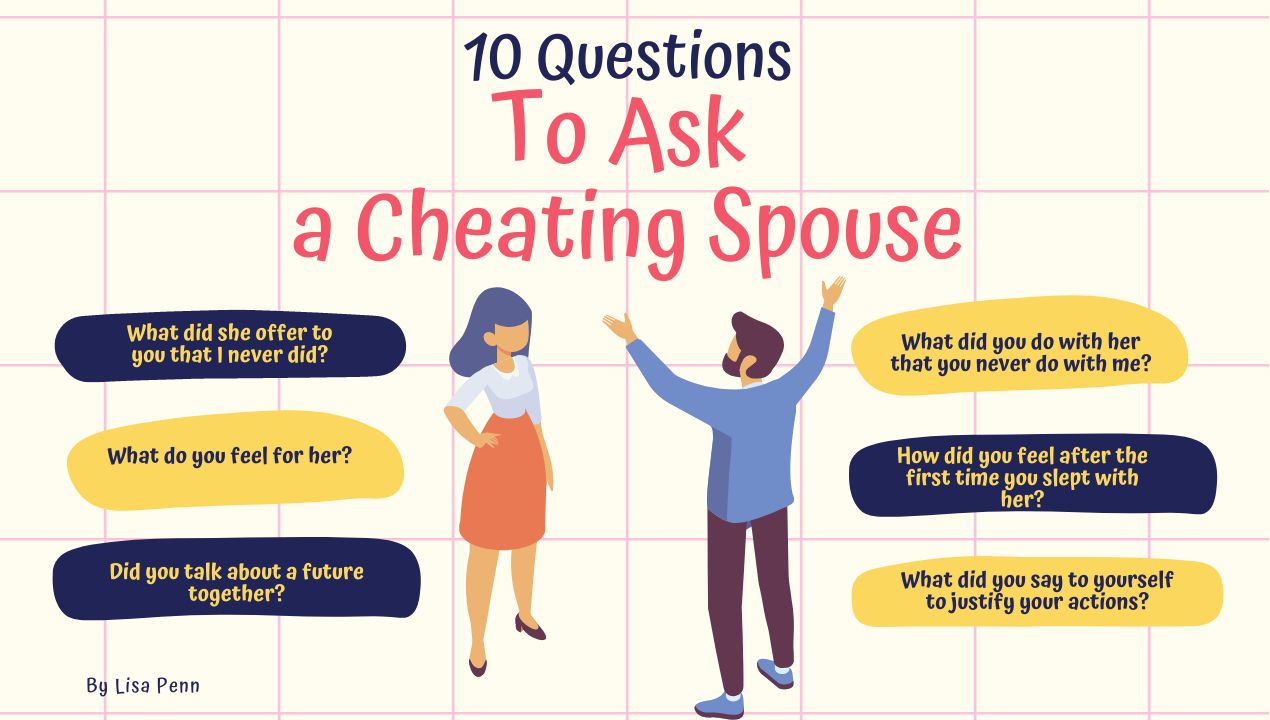 About 50 questions went through my mind, along with the shock, rage, humiliation, and disbelief.
I didn't know you can feel so much and at such intensity in 10 seconds.
Before anything else, I felt I had to know every single detail about his affair. Right now.
What? When? Where? Who? Why?
"The Five Ws are questions whose answers are considered basic in information-gathering. They are often mentioned in journalism (cf. news style), research, and police investigations.

They constitute a formula for getting the complete story on a subject."– Wikipedia
The 5 Ws were definitely my most urging questions, except for "What?. I already knew "what"; it was more of a "say what??" kind of thing.
Unlike many other cheating spouses, my husband chose to stay and answer every question I had.
"She" was someone I knew from his work. I liked her myself. His boss gave them a project they had to work on together.
This project had them spending a lot of time together.
They started going out to "work lunches", which turned to "dinner lunches" and before he knew it, the work talk turned to intimate talk.
They liked each other. They had a lot in common. They shared their life struggles and finally, they shared a bed too.
The more he told me, the more (unbelievable) pain I felt.
I knew that the more I knew the more upset I will be, but I couldn't stop asking more and more questions.
👉 I Didn't Ask the Most IMPORTANT Questions. 
It was only after I found the only resource that got me through this crisis that I realized:
I wasn't asking the right questions.
Sure, you have to know how it started, where, how many times, etc. Because it teaches you about intention. There's a difference between an office romance and hooking up with prostitutes, right?
But:
Then I learned about other, more important questions to ask a cheating husband.
These questions can make or break your marriage.
They will show you if there's a chance of surviving this, and they can help you start your healing journey the right way.
10 Questions to Ask a Cheating Spouse
What did you do with her that you never do with me?
How did you feel after the first time you slept with her?
What did you say to yourself to justify your actions?
Was it hard for you to keep lying to me about what you do and where you are?
What did she offer to you that I never did?
What did you tell her about us? Did you confide in her about our problems?
How did she make you feel when you were with her?
What do you feel for her?
Did you talk about a future together?
Would you leave me for her if she asked for it?
---
These 10 questions to ask your unfaithful spouse, if answered honestly, will give you everything you need to know about how and where to go on from here.
They will show you what's missing in your relationship.
They will show you how and if he really regrets his betrayal. They will show you if he is being honest and if there's a chance you can trust him again.
They can help you prevent this from ever happening again.
Want to know the odds of him cheating again?
The Once a Cheater, Always a Cheater Infographic:
Shows you the odds of cheating again for each of the 7 Types of Affairs
Gives you clues that tip-off whether they will cheat again
Offer strategies that lower the odds of cheating again
Presents revised odds for cheating again after breaking free from the affair
👉 If you want the infographic, which examines all 7 types of affairs, plus additional important information, Go Here.
What to Do If He Refuses to Answer
If your husband refuses to answer questions about his affair, it's not because he doesn't care about your feelings.
It's because he knows that the answers will hurt your feelings and he doesn't want to hurt you more than he already did.
Control your anger and tell him that you need to have some information to start your healing process and that you know that you won't like the answers but you are well prepared for them.
If you tell him this in a calm manner, I believe he'll open up and tell you almost everything you want to know.
👉 Read: my husband left me for another woman – can I get him back?
What MY Husband Answered
As a part of my online marriage counseling,  I asked my husband each one of these questions.
I was heartbroken to find that he had real feelings for her. That they indeed "playfully" imagine a future together. That she supported his dreams and fantasies in a way that I didn't.
But I also realized how truly and honestly he regrets his affair.
I saw how much he was willing to do anything to make things right between us and prevent this from ever happening again.
I saw that he was doing his part in saving our marriage.
Warning: Read This Before Asking Him
These questions are risky.
You may get some information you don't really want to know or know how to handle. Remember, once you have this information, you can never give it back.
Before you ask your husband these questions, write them down in secret and hold on to them for a few days.
Consider if you really want to know the answers and imagine him answering them in a few ways.
Think about how you would feel and what you'll do if he answered this or that. It will help you be prepared to hear and discover the truth about your marriage and your relationship.
How to Get the Trust Back After Infidelity
I always say it, and I'll say it again: Do not try to overcome his affair by yourself.
Having the right kind of advice, preferably in a simple step-by-step format, can be the difference between a restored and renewed marriage and a quick divorce.
And you can't wait a minute longer. More fruitless fights, accusations, distance, and fear are another step toward divorce.
I recommend the
free email series
(and 5 marriage assessments) from marriage coach Mort Fertel to get the help you need right now./
For me, it has saved my marriage and helped us make it better than ever. I hope it does the same for you.
What do you think? What is the most important question to ask a cheating partner?
Rooting for ya,
Lisa
P.S
Read – My Husband Cheated – Should I Give Him Another Chance?